Kingnature aronia vida 100 stk
Kingnature aronia vida 100 stk
Description
Kingnature aronia vida 100 stk
A 100% Swiss product! With concentrated extract from healthy aronia berries. Aronia berries grow very well in Switzerland and naturally contain a lot of vitamin C and are rich in OPC.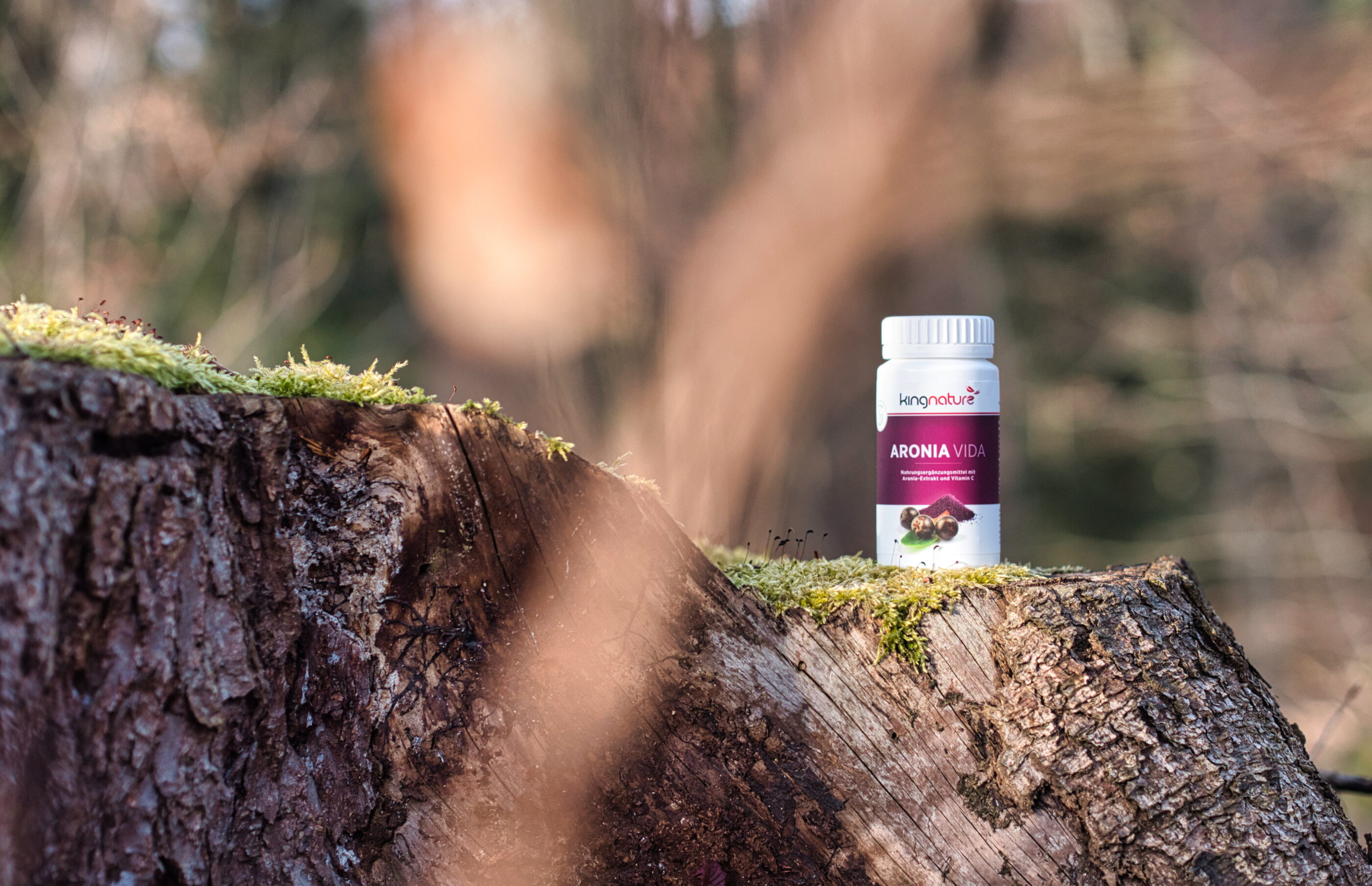 What are the benefits of Aronia Vida?
The aronia capsules contain a highly concentrated extract of the aronia berry.

The aronia berry is scientifically well documented.

There are no known intolerances.
Protection against oxidative stress
Aronia Vida is rich in vitamin C.
Vitamin C helps protect cells from oxidative stress,

contributes to the normal function of the immune system and the nervous system,

contributes to the reduction of tiredness and fatigue and

increases iron absorption.
Aronia capsules with OPC
Aronia berries have a remarkable content of OPC (=  oligomeric proanthocyanidins ) averaging 664mg / 100g and polyphenols in comparison with other fruits. Fresh aronia berries contain around 10,000 mg of polyphenols per kilogram, while blackberries contain around 2500 mg, raspberries around 1300 mg and strawberries around 1000 mg (each per kg of fresh fruit) *. A similar picture emerges with the anthocyanins : Aronia berries contain around 4300 mg, while blackberries come off with around 1100 mg and raspberries and strawberries with around 250 mg each.
Difference between aronia pomace and aronia extract
There is an essential difference between aronia pomace and aronia extract. Aronia extract is a highly concentrated form of aronia pomace. Around 27 aronia berries are required to make 1 aronia capsule! We work with a Swiss biotech company to manufacture our extract. We can guarantee gentle production with the highest possible concentration.
Application
Take 2-4 capsules daily.
Composition
Aronia Vida contains 100 capsules each with 500 mg aronia berry extract and vitamin C. Net content 60g. We only use veggie capsule shells made from vegetable material (HPMC) without gelatine. Aronia Vida is available from stock.
Aronia Vida is also available in your pharmacy or drugstore (Pharmacode 6247233).




utritional information of the pollen capsules
| | |
| --- | --- |
| | for 3 capsules |
| Acerola extract | 180 mg |
| vitamin C | * 45 mg |
* = 56% of the nutrient reference quantities (NRV)
Dietary supplements are no substitute for a varied, balanced diet, fresh fruit and vegetables, and a healthy lifestyle. Keep cool, dry and out of the reach of children. Do not exceed the recommended consumption.